Football Schedule Magnets & Magnetic Football Schedules
When it comes to real estate marketing, the personal touch is more important than ever these days. Let your clients know you'll be there for them every day of the year with custom Football Schedule Magnets from RealEstateCalendars.com.
The best promotional items don't just provide more bang for your buck – they offer real value for your clients and prospects and give you a chance to make a lasting connection. Magnetic football schedules are the perfect choice.
Bold, eye-catching colors are customized to reflect the team colors for your local market, along with a useful game schedule people will consult again and again. Plus, with your name and contact information printed at the top of every magnet, your prospects will be thinking of you every time they open the fridge, all season long.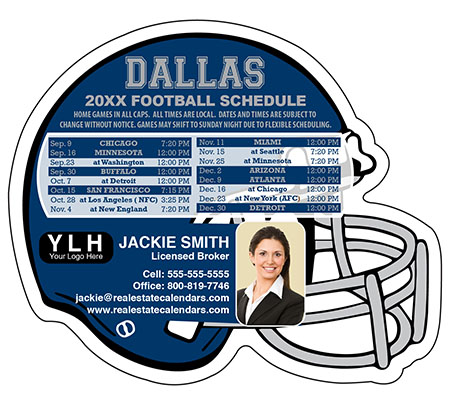 Custom Imprinted
Overall Size
Min. Order Qty:
Production Time:Days

**

Shipping Charges additional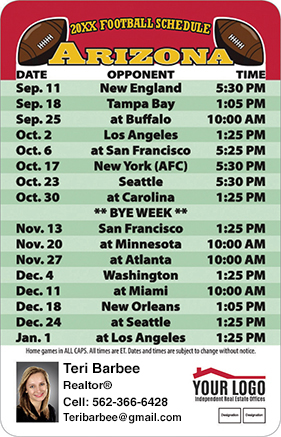 Custom Imprinted
Overall Size
Min. Order Qty:
Production Time:Days

**

Shipping charges additional
The Benefits Of Promoting Your Business with Football Schedules
Promoting your real estate business requires time, effort, and creativity. For one thing, real estate requires long lead times and a lot of nurturing – you may need to connect with your prospects many times, over a period of months or even years, before you can convert them to clients.
That's where the creativity comes in. You can't just hand someone a business card, or do a single cold call, and expect to build a business. The best realtors combine several different strategies and approaches to ensure that their prospects stay interested and their business stays top-of-mind for the long term.
Promotional items like real estate football schedule magnets are an excellent addition to your marketing mix. Not only do they provide real value for the recipient – a convenient, easy-to-read sports schedule in an attractive magnet form – but they're also sure to be around for the long haul.
Football Schedules Make A Lasting Impression
The best real estate marketing is something that will stick with your prospect for a while. Sometimes that's an idea – a real estate postcard or door hanger campaign that offers useful market advice, or includes a great tagline people will remember. Other times, it's a promotional item that recipients will hold on to, and look at, on a regular basis.
Custom football schedule magnets are a perfect example. While a business card might hang around in a wallet for a while, and a postcard might be read before being tossed out, NFL schedule magnets are the best of both worlds. Clients will hold onto them for the duration of the season (more than four months when you include pre-season games!), and they'll get attention every single week with a prominent placement on the fridge door.
Best of all, these magnets make it easy to keep your brand top of mind whenever the recipient thinks of real estate. Whether you opt for a more minimal calendar style or a full magnetic business card football schedule, your branding and contact info will receive prime placement all season long.
Magnetic Football Schedules Mean More Referrals
Marketing your business to prospective new clients is a must, and marketing to past clients helps with both retention and referrals. But items like promotional football schedule magnets help you maintain a vital source of business: your referral partners and networking sphere.
These are important partners like financial planners, mortgage lenders, and home repair and remodeling firms who can be an excellent source of referrals for potential clients. Adding them to your standard postcard campaigns wouldn't make sense. A magnetic football schedule, though, is a great way to give them something they'll appreciate and promote your business at the same time.
Other Promotional Items
For more real estate marketing materials that can have an impact for months to come, be sure to visit our stationery page for notecards, envelopes, and your choice of seed packets. Staying in touch keeps your business top-of-mind, and our seed packets give you a great, seasonally appropriate way to reach out and connect with your clients all through the year.
All our products are made proudly in the USA.
IMPORTANT NOTE: All times printed on our sports schedules are local. Dates and times printed on all schedules are subject to change without notice. Schedules shown online may not represent actual current schedules and are intended to show color, fonts, general layout, etc. of stock schedule. Schedules will be updated as the current season approaches. Schedule dates and times are taken from official websites of each sport and are subject to change and availability of the individual professional sport scheduling system. Our stock schedules are not endorsed by any professional sporting team or organization. We do not own the rights to the official logos of any of the professional teams and that's why the official logo is not used on any of our products. We are not responsible for any misprinted dates or times printed on our products.